Carpenter Confident As Indy 500 Practice Runs Begin
Carpenter Confident As Indy 500 Practice Runs Begin
Tom Blattler
Ed Carpenter Racing
May 11, 2012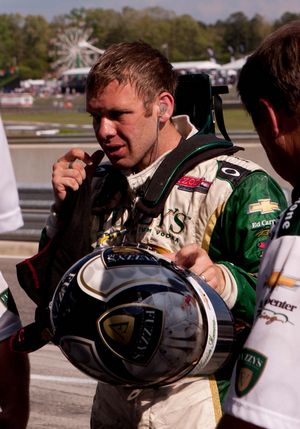 Carpenter Confident As Indy 500 Practice Runs Begins
May 11th 2012 - INDIANAPOLIS (May 11, 2012) – Ed Carpenter is ready for Saturday's opening round of Indianapolis 500 practice runs. It is the debut of his new team at his home track.
And he believes he will be a challenger for the coveted Borg Warner Trophy on May 27. The Kentucky Speedway winner is the only team owner/driver in the field for the 96th running of the legendary Brickyard Classic, as he enters the 500 in a dual role with the No. 20 Fuzzy's Ultra Premium Vodka Chevrolet Dallara car.
The Indy 500 will be the first oval track event of the 2012 IZOD IndyCar Series, and Carpenter, the only dirt track veteran in the series, expects to be in the fight for the Indy 500 title at the world's greatest racing facility, Indianapolis Motor Speedway.
Carpenter grew up a few miles from the prestigious racing plant and has thought of winning the world's biggest auto race many times.
"You always think of winning the Indy 500 and what it would be like to do it," said the 2003 Butler University graduate. "If we qualify well, I think I can then visualize what it is going to take to win the race. I have been in good situations before at Indy. I feel like I have been in position to win the race before and I think that is the case this year too. It's hard to imagine how you would feel if you win the race."
But the personable Carpenter thinks he and his Ed Carpenter Racing team have a real shot this year despite having a completely new racing organization. All of the IndyCar Series teams are running new equipment with new chassis and new engines.
"We started the team in November and like almost every other teams in the series, Indy is priority No. 1," he said. "It's been exciting the last few years because we have been fast at Indy. I feel like we can be a contender this year because everyone is coming in with a clean slate. My strong suit is oval racing and I think we can be contenders during the month. With the new equipment, there is a big opportunity for our team. I feel like we have been putting in hard work. I will be disappointed if we are not fast this month."
Carpenter's dual role began in November when he announced his new Fuzzy's Vodka-sponsored operation with veteran Derrick Walker serving as general manager. Carpenter brought in other experienced crew members to strengthen his new squad including Tim Broyles (team manager), Bret Schmitt (crew chief) and Michael Cannon (chief engineer).
"I really feel like we have put together a very good team this year," Carpenter said. "We started much later than the other teams with our engine and our testing. But we have been gaining in the road circuits. And Indy is the opening oval race this year. We expect to be a contender in qualifying and the race. It won't be easy against the top teams but, with the new cars and engines, everyone is working with a similar baseline. I think you'll see us on track as much as possible to learn more about the new Dallara and the new Chevrolet. I would think other teams will do the same."
Carpenter has thought out a game plan for the next few weeks at Indy including his feelings if he lands in the famous Indy 500 victory lane.
"I know it is emotional and devastating when things don't go your way at Indy," he said. "When I finished fifth in 2008, I was happy but I felt like I had a better car than fifth that day. There is only one result that you feel great about at Indy and, anything less, you just think about what might have been. You see Marco (Andretti) nearly win in his rookie year and you think he would be happy. But as a driver, you know what he is going through. It's tough because when you are that close, nothing else feels good to you. So I feel like we can be a contender this year, and that means if we don't win the race, we'll think about where things didn't go our way."
But Carpenter and his squad have studied every aspect of practice, qualifying and the May 27 race.
"Qualifying at the Indianapolis Motor Speedway is more stressful for me than the race itself," Carpenter admits. "I get more anxiety for qualifying especially if you have a car that can make the front row. Or now you have a chance to make the Top Nine shootout on the first day. There is just so much at stake then. The car is trimmed out so much with the qualifying setup compared to the race setup. Especially when you are on the edge with a chance for the front row or the shootout, you take so many more risks. So it is very stressful for the drivers. If you can go out and put together four good qualifying speeds, that is one of the most rewarding times of the month."
And if qualifying goes smoothly for the rookie team owner, he'll have additional confidence going into the Indy 500.
"On race day, I'm thinking as a driver, not an owner," he said. "I'll be driving for the win."
Connect with The Crittenden Automotive Library