Carpenter Pleased With Progress In Indy 500 Practice
Carpenter Pleased With Progress In Indy 500 Practice
Tom Blattler
Ed Carpenter Racing
May 15, 2012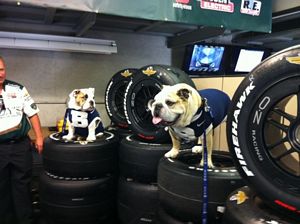 Carpenter Pleased With Progress In Indy 500 Practice
May 15th 2012 - INDIANAPOLIS – Ed Carpenter's day at the Indianapolis Motor Speedway was filled to the brim with appearances, engineering meetings and on-track performances during Tuesday's fourth round of Indy 500 practice runs.
Carpenter finished his busy day with a smile on his face, a contrast to Monday's mood for the 31-year-old team owner/driver of the No. 20 Fuzzy's Ultra Premium Vodka Chevrolet Dallara car. Ed wasn't pleased with his car's balance Monday, but Tuesday's 55-lap session saw continuous improvement in the warm, sunny conditions.
At the end of the day, Carpenter's best speed was 218.714 miles per hour, and he felt his young team had made the proper adjustments to carry them through the rest of the week with qualifications coming up Saturday. For the first time this week, Ed Carpenter Racing worked with traffic on the famed 2.5-mile Indianapolis Motor Speedway oval, as Carpenter and his squad developed a solid baseline with the car's suspension.
Marco Andretti led Tuesday's speed with a monster tow in traffic at 223.676, easily the fastest speed of the month thus far.
"It was way better than Monday's car here," said Carpenter. "It's been a bad day, a good day, a bad day and pretty good day today. We did get a lot of things done today. We are making progress now with the car. We have been trying so much stuff with the new DW12 chassis. We didn't make the car perfect today but I was pleased with the direction we are going now. We did a good job figuring out what we need for the future here. We exposed some issues with the car that will help in the next couple of days. Now, we need to come up with a good plan overnight so we get closer to the fastest guys. We just need to fix all of the things we uncovered today. I'm sure we can do it this week."
Carpenter's busy Tuesday included making a stop at the Indy Family Foundation event, welcoming the Butler University mascots, Blue Two and Tripp, to his team's garage for a media event (the dogs loved to relax in the cool garage) and meeting members of the heavy metal band, Megadeth, who were performing Tuesday night in downtown Indy.
Connect with The Crittenden Automotive Library