Carpenter Posts Good Speed In Fast Friday
Carpenter Posts Good Speed In Fast Friday
Tom Blattler
Ed Carpenter Racing
May 18, 2012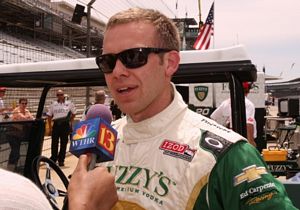 Carpenter Ready After Fast Friday
May 18th 2012 - INDIANAPOLIS – Ed Carpenter posted his fastest speed of the month Friday with a 224.946 mile per hour reading in the final day before qualification runs for the 96th running of the Indianapolis 500-Mile Race set for Sunday, May 27.
Carpenter took the pretty No. 20 green, white and gold Fuzzy's Ultra Premium Vodka Chevrolet into the top-ten speeds in the afternoon before settling for the 16th position at the conclusion of 'Fast Friday." The continued beautiful sunny skies at the Indianapolis Motor Speedway greeted the racers and a large number of spectators for a spectacular day of action with 32 cars recording speeds.
Carpenter was pleased with his car's speed in the straightaway, but the team owner/driver seemed a little frustrated with his car's cornering. The Indy resident believes his machine has potential for a front row qualifying run with the proper adjustment entering Saturday's time trials which get underway at 11 a.m.
On Friday, Carpenter completed 49 laps, many in the 224 m.p.h. range in the sunny conditions. Carpenter's team will form a strategy Friday night for the team's four-lap qualifying attempt. Carpenter qualified in the Fast Nine Shootout last year when driving for Sarah Fisher Racing in the 100th Anniversary Indy 500.
The cars will practice Saturday morning with the first half of qualifiers at 8 a.m. and the second half at 8:30 a.m. All cars will practice from 9 to 10 a.m. The first round of qualifications is from 11 am to 4 p.m. time trials, with Saturday's Pole and Fast Nine Shootout set at 4:30 p.m.
"For Fast Friday, we definitely have the speed to compete for the front couple of rows," said Carpenter. "But we are still searching for some grip. We just seem to be sliding around a lot. The Chevrolet power is unbelievable and we have been running great today. Unfortunately, we are still scrubbing off too much speed in the turns. We just can't put our finger on the cause of it right now. The positive is that we have a fast car, but the negative is we haven't figured how to get it through the corner just right. If we can figure that out, we'll have a car as fast as anyone here. We'll work on the qualifying setup Friday night and I hope we can get it right. Because I feel that we can get right in the mix of the action on Saturday."
Connect with The Crittenden Automotive Library