ECR Continues Work With Fuzzy's Vodka Chevy Sunday at Indy in Cold, Windy Conditions
ECR Continues Work With Fuzzy's Vodka Chevy Sunday at Indy in Cold, Windy Conditions
Tom Blattler
Ed Carpenter Racing
May 12, 2013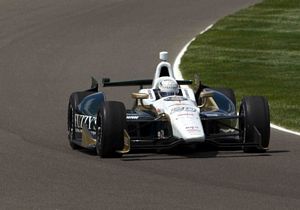 Cold, Windy Conditions Sunday at Indy
May 12th 2013 - INDIANAPOLIS – Only the hearty racing fans braved the windy and cold conditions Sunday at the Indianapolis Motor Speedway in the second day of practice runs for the 97th running of the Indianapolis 500-Mile Race set for May 26.
It was even tough on the drivers taking laps on the famed two and a half mile oval track with the low 50-degree temperatures and an average 15-mile per hour wind.
Ed Carpenter, fastest on the Saturday's opening day, recorded 26 laps Sunday in his No. 20 Fuzzy's Ultra Premium Vodka Chevrolet, as the Ed Carpenter Racing team fought the bitter conditions with a variety of setups in posting a best speed of 219.756 miles per hour. He was eighth fastest out of the 23 drivers who took the track Sunday.
Carpenter, entering his tenth Indy 500 this year, clocked a 220.970 m.p.h. in Saturday's first practice round. On Sunday afternoon, Carpenter jumped to third on the speed chart with his top speed of the day and also ran in some traffic to simulate various racing environments. The ECR squad parked the No.20 machine with 35 minutes remaining in the practice session and began preparations for Monday's round when warmer air temperatures are expected.
The highest temperature of the day at IMS was 56 degrees, but Monday's forecast looks to be in the mid-60s.
Rookie Carlos Munoz notched the top speed of the day with a reading of 223.023 in his Andretti Autosport Chevrolet followed by the Chevy-powered cars of Ryan Hunter-Reay, E. J. Viso, Marco Andretti and A.J. Allmendinger.
"Yesterday (Saturday), we had a good day and we got through everything we wanted to," said Carpenter. "Today (Sunday), we had a couple of issues we had to work through. They were not a big deal, but they got us sidetracked off our game plan a little. I still feel decent about where our Fuzzy's car is at right now. At the same time, we were hoping to get a few more things done on our planning list today. But we can make them up on Monday. I want to wish my mom (Laura) and my wife (Heather) a Happy Mother's Day. We have spent a lot of Mother's Days here at IMS over the years and I want to thank the ladies for their continued support here."
Connect with The Crittenden Automotive Library