Heat Goes Up at IMS Wednesday As ECR Runs 107 Laps
Heat Goes Up at IMS Wednesday As ECR Runs 107 Laps
Tom Blattler
Ed Carpenter Racing
May 15, 2013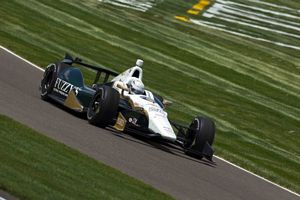 Heat Goes Up Wednesday at IMS
May 15th 2013 - INDIANAPOLIS – It felt like a summer day Wednesday at the Indianapolis Motor Speedway as the heat climbed to nearly 90 degrees and the track surface came close to 130. But Ed Carpenter and his ECR/Fuzzy's Vodka team found the conditions excellent to work on a variety of chassis settings in Indy 500 practice.
Carpenter, who welcomed the Butler University officials and mascots to the garage in the morning to announce the popular Bulldog logo on the No.20 car, jumped to the top of the speed charts early in the afternoon with a 221.879 miles per hour speed reading.
As the temperatures continued to rise around the famed two and a half mile oval, the Butler grad worked with his crew to post a week-high 107 laps for the team. Carpenter held the top speed for more than three hours Wednesday before a late run by several drivers bettered Ed's mark. At the end of the day, Carpenter clocked the 11th best speed in No. 20 Fuzzy's Ultra Premium Vodka Chevrolet.
The majority of Carpenter's afternoon was spent dicing with other drivers in race traffic conditions. The ECR engineers worked diligently through their prepared list of settings as Carpenter remained calmly in the car during the changes. Weather conditions are expected to be different on Thursday and Friday this week as rain showers are expected through the upcoming afternoons.
Defending Indy 500 champion Dario Franchitti topped the speed charts Wednesday with a speed of 224.236 in his Target machine. The Scotsman was followed by Townsend Bell at 223.716, Helio Castroneves at 223.699, Ryan Hunter-Reay at 223.093 and Ryan Briscoe at 222.803.
"We had a busy day," said Carpenter. "We ran 107 laps, more than twice as much as any other day for us. We had a bad day on Tuesday, just a lot of problems. The Fuzzy's Chevy felt much better today and we ran in a lot of traffic. With the heat and additional cars, the track was more in a race setting. We aren't where we want to be just yet, but I think we are back into our scheduled plan. We aren't sure how the weather will play out the next two days, so we wanted more laps today. We have been working on the race car and haven't trimmed anything out for a qualifying setup. Let's hope the weather is cooperating with us to get more laps in for Thursday and Friday."
Connect with The Crittenden Automotive Library