No Slow Down For ECR With Detroit Next, Carpenter Collects $405,955 at Indy 500
No Slow Down For ECR With Detroit Next, Carpenter Collects $405,955 at Indy 500
Tom Blattler
Ed Carpenter Racing
May 28, 2013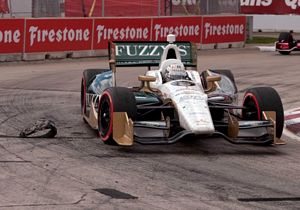 ECR Team Ready For Belle Isle Streets This Weekend
May 28th 2013 - DETROIT – Ed Carpenter is still a little disappointed after his 10th place finish Sunday in the 97th Indianapolis 500-Mile Race, but the only team owner/driver in IZOD IndyCar Series is pleased with his Ed Carpenter Racing crew's overall performance at the Indianapolis Motor Speedway.
Carpenter won the pole position for Sunday's 200-lap classic and led the most laps (37) in one of the most exciting Indy events in history. Last night, the Butler University marketing graduate collected a nice check for his Indy performance of $405,955.
But Carpenter's attention has already switched to the resurfaced streets of Belle Isle near downtown Detroit for this weekend's doubleheader races in the Chevrolet Detroit Belle Isle Grand Prix for 3:30 p.m. EDT Saturday and Sunday. Both 70-lap events will be televised live on ABC-TV.
"We were a little too conservative early in the 500," said Carpenter. "Our strategy didn't work as we hoped since we couldn't get back up with the leaders in traffic. We just had a little too much understeer for our car. The field is so competitive right now that any little slip-up and you are not able to get back into contention. Overall, it was a good month for the Ed Carpenter Racing/Fuzzy's Vodka team with the pole and the most laps led. I just wanted to lead that last one. I'm happy for Tony (Kanaan). He has had some tough luck at Indy and now it turned around. He'll be a great Indy 500 champion."
But Carpenter knows his team must shift gears for the next four-week stretch that includes Detroit this weekend, Texas (June 8), Milwaukee (June 15) and Iowa (June 23).
"Things don't slow down for the IZOD IndyCar Series now," Ed admitted. "It's four more weeks in a row of racing. Our guys are working hard right now to turn the car around to a road racing setup. This will be the fifth week in a row on track for everyone, so people are a little beat up right now. But the Detroit Grand Prix is big one for our partners at Chevrolet, so we'll be trying to put in another strong performance this weekend."
Carpenter survived the "ripped-up" track surface in last year's Belle Isle to place 12th in the No. 20 Fuzzy's Ultra Premium Vodka Chevrolet. But he is shooting for a better showing in the first doubleheader weekend of the season.
"The doubleheader weekend will be unique for the entire IZOD IndyCar Series," he said. "We haven't run two road races on the same weekend before. So things will be a lot different for the teams in their preparation for the Detroit race. You can't afford to tear up too much equipment on Saturday since there is another race on Sunday. It will be interesting how the teams approach the weekend. I know our guys are ready for it."
Another unique bonus for a special driver in Detroit will be the SONAX 'Perfect Finish" Award where SONAX will present $50,000 to a driver who wins both main events in Detroit. If no one pulls off the feat, the $50,000 rolls over to the next doubleheader in Toronto. A double winner at Toronto will receive $100,000.
Qualifying for the first "Dual in Detroit" race will be Friday at 3 p.m. EDT.
Connect with The Crittenden Automotive Library