cmcglobal, DMCIndy Join ECR as Associate Sponsors For Indy
cmcglobal, DMCIndy Join ECR as Associate Sponsors For Indy
Tom Blattler
Ed Carpenter Racing
May 8, 2014

Microsoft Word version


cmcglobal, DMCIndy are added to the ECR sponsor list.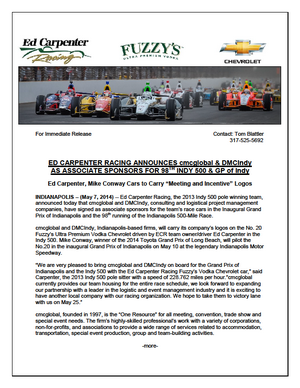 May 8th 2014 - INDIANAPOLIS – Ed Carpenter Racing, the 2013 Indy 500 pole winning team, announced today that cmcglobal and DMCIndy, consulting and logistical project management companies, have signed as associate sponsors for the team's race cars in the Inaugural Grand Prix of Indianapolis and the 98th running of the Indianapolis 500-Mile Race.
cmcglobal and DMCIndy, Indianapolis-based firms, will carry its company's logos on the No. 20 Fuzzy's Ultra Premium Vodka Chevrolet driven by ECR team owner/driver Ed Carpenter in the Indy 500. Mike Conway, winner of the 2014 Toyota Grand Prix of Long Beach, will pilot the No.20 in the inaugural Grand Prix of Indianapolis on May 10 at the legendary Indianapolis Motor Speedway.
"We are very pleased to bring cmcglobal and DMCIndy on board for the Grand Prix of Indianapolis and the Indy 500 with the Ed Carpenter Racing Fuzzy's Vodka Chevrolet car," said Carpenter, the 2013 Indy 500 pole sitter with a speed of 228.762 miles per hour."cmcglobal currently provides our team housing for the entire race schedule, we look forward to expanding our partnership with a leader in the logistic and event management industry and it is exciting to have another local company with our racing organization. We hope to take them to victory lane with us on May 25."
cmcglobal, founded in 1997, is the "One Resource" for all meeting, convention, trade show and special event needs. The firm's highly-skilled professional's work with a variety of corporations, non-for-profits, and associations to provide a wide range of services related to accommodation, transportation, special event production, group and team-building activities.
In addition, the No. 20 car also will spot the DMCIndy logo at the Grand Prix of Indianapolis and the Indy 500. DMCIndy is "The source for everything in Indianapolis"! Their hospitality professionals possess extensive knowledge and expertise in the design implementation of events and logistics. They are highly committed to providing exceptional quality destination management services.
"cmcglobal and DMCIndy are very excited to expand our current partnership with Ed Carpenter Racing," said Jeff Cummings, president of cmcglobal and DMCIndy. "Ed and his team are proven winners on and off the track and we hope to be a part of another winning celebration with ECR on May 25 at the fame Brickyard."
The first-ever Grand Prix of Indianapolis will be ran on the 2.4-mile, 14-turn road course at the Indianapolis Motor Speedway on Saturday, May 10, at 3:30 p.m. EDT. The race will be televised on ABC-TV.
Practice for the 98th Indy 500 begins Sunday, May 11, with qualifications set for Saturday, May 17, and Sunday, May 18. The green flag for the Indy 500 will drop at 12:12 p.m. EDT on Sunday, May 25, and the race will be shown live on ABC-TV.
Connect with The Crittenden Automotive Library