Fan of the Month: May 2013
Fan of the Month: May 2013
Bradley Carpenter
Last Lap Marketing
May 2013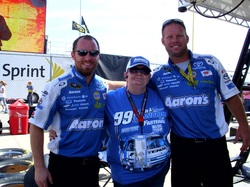 Lucy Skibinski
Begins Three Race Stint This Weekend
Lucy Skibinski is the 2013 May Fan of the Month! Lucy has been following Garrett's career for about a year and likes his tenacity and racing ability.
She has been a racing fan for as long as she can remember and even wanted to drive a NASCAR race car when she was young!
Lucy wants to see much improvement from Garrett in the standings this year.
To have a chance to be the Fan of the Month sign-up to be a Garrett Marchant Fan Club member today!
Connect with The Crittenden Automotive Library