Old Seat Still Feels New For Garrett Marchant
Old Seat Still Feels New For Garrett Marchant
Bradley Carpenter
Last Lap Marketing
April 17, 2012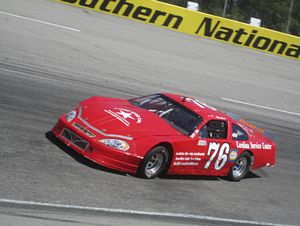 Marchant Makes Laps During Practice (Photo Courtesy of Last Lap Marketing)
CHARLOTTE NC (April 17, 2012) - Garrett Marchant's 2012 season is hitting the high gear as Marchant completed his first twin race event this past weekend at Southern National Motorsports Park. Marchant drove the No. 76 Lone Star Car Transportation Limited Late Model after the No. 77 had engine issues last weekend. Marchant would finish 12th in race one and 11th in race two, both were 35 laps around the NASCAR Home Track of SNMP.
The day started off with Garrett having two rounds of practice which helped him get used to the car again. The last time the No. 76 saw a racetrack. The day started off with Garrett having two rounds of practice which helped him get used to the car again. The last time the No. 76 saw a racetrack was back in September 2011 when Marchant made his Limited Late Model debut at Orange County Speedway. Marchant would qualify 14th with a time of 16.987secs. During the first race Marchant would keep pace with the pack and save his tires for race two. When the first race was finished the BMR Motorsports Team found out that Marchant lost brakes during the first race, meaning in race two Garrett would have to push it, but not too much. BMR Motorsports' teammate Clifton Savage helped Garrett deal with cautions in race one and guide Marchant throughout the evening as his spotter.
"Good night for our No. 76 lscautoshipping.com Chevy we didn't really have a good handle on the car and we finished solid something we really needed to do. Main thing is that we finished both races in one piece; unfortunately we lost the brakes with five laps to go in the first race, and just hung in there during race two. It was a good points night for our team. We are ready to move on to the next race," Garrett explained about his evening and the struggles he and his team dealt with.
Garrett Marchant's public relations and marketing team at Last Lap Marketing was at the track all day with Marchant helping him raise funds for Racing 2 Cure and organized an autograph session for his fans. "It was really great to see all the fans come see Garrett after he qualified, what was even more special was a breast cancer survivor came by and donate to Garrett's Racing 2 Cure efforts and she received a t-shirt for her donation," Last Lap Marketing Owner, Bradley Carpenter explained about the booth at the track. After the race Marchant went around the outside of the track to continue meeting his fans and raise money for Racing 2 Cure. Marchant rose over $100 for the non-profit which helps families going through cancer. Race fans that were not in attendance can stop by the booth throughout the season and/or make a secured donation by visiting: https://www.racing2cure.org/drivers/GarrettMarchant.
The next race for Garrett Marchant will be on May 5th when Marchant hits the pavement back in his No. 77 lscautoshipping.com Limited Late Model for another evening of Twin 35 lap races at Southern National Motorsports Park.
For more information on Garrett Marchant Racing please visit www.garretmarchant.com, Facebook: facebook.com/garrettmarchantracing, PR Twitter: @GMR77PR, Garrett's personal Twitter: @OfficialGarrett, and YouTube: youtube.com/user/GarrettMarchantRacin.
Connect with The Crittenden Automotive Library