The Time is Now for Marchant
The Time is Now for Marchant
Bradley Carpenter
Last Lap Marketing
July 20, 2012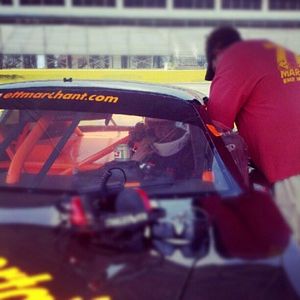 Photo Courtesy of Clint Thompson
CHARLOTTE NC (July 20, 2012) – There is a driver at Southern National starting to show what he has and what he can do, this driver is Garrett Marchant. Marchant started this past weekend's race from the eleventh position and battled in the top seven spots for the majority of the night. Garrett Marchant, the driver of the No. 77 Lone Star Car Transportation/ Walgreen of Chino Valley, AZ/ Rideinsane.com Chevy Limited Late Model, would go on to finish in the seventh spot and made gains in the point standings. Marchant now currently sits in the six position in the Limited Late Model standings at Southern National, where he is also going for Rookie of the Year honors. Marchant stated, "My goal at the beginning of the year was to win the "Rookie of the Year" award and be top 5-7 in the points standings"; looks like so far this mission is in line to succeed.
Earlier in the week Garrett stated on his Facebook fan page, "Struggled all day yesterday but was definitely strong in the race, qualified 11th was making my way to the front and got spun (no damage was done). I restarted about 15th or so and made my way back up to a 7th place finish. Thanks to all my fans, friends, family, Lone Star Car Transportation, Walgreens CVAZ Chino Valley,AZ, and RideInsane.com for all they do!"
The No. 77 BMR Motorsports team, along with driver Garrett Marchant, will head back to Southern National to race in this weekend's Twin 35 lap races as part of the Scott Farms 255. "We are on a roll right now and I want to keep the momentum going and get as many points and spots on the track. This weekend I am going to give it my all once again and gun for that first top five finish of the season," Marchant discussed while he was preparing for this weekend. After this Saturday nights races there will only be three more nights of racing at SNMP for the Limited Late Model class and the time is now for Marchant.
The Garrett Marchant Fan Club would like to again remind folks that on July 28th the first annual Garrett Marchant Fan Appreciation Day Benefiting Racing 2 Cure will occur in Garrett's hometown, Roanoke Rapids from 12:30 - 5PM at Fairwood Lanes. The event is now free to attend while it will cost money to bowl and there will be plenty of fun for fans of Marchant as he will be signing autographs and give-a-ways will be occurring. For more information click here.
Connect with The Crittenden Automotive Library