Testing His Skills: Garrett Marchant in Points Battle
Testing His Skills: Garrett Marchant in Points Battle
Bradley Carpenter
Last Lap Marketing
July 12, 2012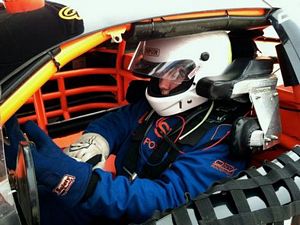 Photo Courtesy of Lindsey Heckaman
CHARLOTTE NC (July 12, 2012) – Garrett Marchant may be out of school for the summer, but he continues to learn each week at the track as well as away from behind the wheel of his No. 77 Lone Star Car Transportation Chevy. Marchant began drivers education this week as he goes for his North Carolina license later this year and it has been different for the fifteen year old. "I am not used to waking up this early," Marchant noted when he was explaining his new educational experience. This weekend Marchant will be racing for the sole position of the seventh points position, or better, at
Southern National as he is currently tied with Brandon Clements. Both Clements and Marchant have 94 points and are only eight points behind sixth. The race will be cut down to sixty laps instead of the previous scheduled 75 laps for the Limited Late Models at Southern National Saturday. The cut in laps will mean an increase in competition amongst the drivers and the No. 77 Lone Star Car Transportation/ Walgreens of Chino Valley, AZ/ Rideinsane.com Chevy looks to be the one on top at the end of the race.
"I am so glad it's time to go racing again! When you have a strong run it seems like a lifetime to get back to the track. I'm hoping for another top ten this weekend and still searching for that top five finish. Things are well though, and I have the car and team behind me to get the job done. I want to again continue to thank all my friends on Facebook and followers on Twitter for their countless support through the season," Garrett explained about his excitement headed in to another race weekend at Southern National Motorsports Park.
The Garrett Marchant Fan Club would like to again remind folks that on July 28th the first annual Garrett Marchant Fan Appreciation Day Benefiting Racing 2 Cure will occur in Garrett's hometown, Roanoke Rapids from 12:30 - 5PM at Fairwood Lanes. The event is now free to attend while it will cost money to bowl and there will be plenty of fun for fans of Marchant as he will be signing autographs and give-a-ways will be occurring. For more information on the event please click here.
Connect with The Crittenden Automotive Library