Eric Gerchak: ISCARS WIDE OPEN 24/7
Eric Gerchak: ISCARS WIDE OPEN 24/7
Bradley Carpenter
ISCARS
March 30, 2012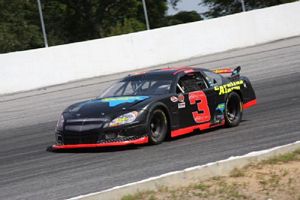 Eric Gerchak gets his Cruze dialed in at Dillon Motor Speedway. (Photo Courtesy of Dale Roberts)
ISCARS PR- Bradley Carpenter
Updated: Wednesday, Friday, March 30, 2012
Daytona Beach, FL -
Eric Gerchak, originally from New Jersey and now residing in Mooresville, NC, is the man behind the wheel of the #3 Carolina Alarms Chevy Cruze, competing in the International Sport Compact Auto Racing Series (ISCARS), Sanctioned by the American Speed Association (ASA) in ISCARS. Gerchak is this week's ISCARS WIDE OPEN driver as the series takes a look at this driver's reflections on 2011, his off season and preparations for 2012.
Throughout the 2011 season Gerchak put up a great fight for wins and position on the track. Gerchak had six top five finishes, two poles, and a win at Dillon Motor Speedway. "Dillon was a great weekend, thought we had complete junk, the track was so hot," says Gerchak as he explains the dynamics of his victory. "The crew worked hard and we were able to battle for the lead in both races." Expressing obvious excitement that he was able to interrupt Bagwell's winning streak.
Gerchak also drove his Cruze to the pole position at Newport Speedway and it was at this race that the team and driver found a comfortable set-up. "I felt like we were chasing the set-up at every track. I felt like we finally hit the right combination at Newport," commented Gerchak. We were challenging week in and out, putting pressure on Bagwell" Gerchak explained about closing out the season. In the end Gerchak would fall just short of the 2011 Championship, as the series' most seasoned veteran, driver- Danny Bagwell, would win the title. With the progress made in 2011, Gerchak feels even more confident that a Series Pro Championship Title is within reach.
2012 looks to be a breakout season for Gerchak as this will be his fourth season with ISCARS. This season Eric is also looking forward to having some new logos on his car. Racing 2 Cure, a non-profit organization to help fight cancer is a new partnership that Gerchak has joined in. Gerchak joins Nick Martin as the latest ISCARS driver in the program that allows fans to donate to the charity as well as help their favorite driver keep racing. Those interested in knowing more about Gerchak's involvement and to make a donation can visit: racing2cure.org/drivers/Gerchak-Racing.
During the offseason, Gerchak has been pretty bust with a new endeavor he has started. Eric Gerchak started a gold buying business in the early part of the winter to help himself keep racing as well as change lives. "If I can help the economy while making money, I think it's a win-win for everyone involved" Gerchak explained about his new venture. He has a few ideas on how to get fans involved with his new business. When that information comes out you can find out on Gerchak's Facebook page: facebook.com/EricGerchakRacing. As we are approaching the start of the 2012 ISCARS season look for Eric Gerchak, this week's ISCARS WIDE OPEN driver, to make a strong statement this season.
For all of the most up to the date information on America's Premiere Stock Car Turner Series make sure to visit www.iscarsonline.com as well as the Official ISCARS Facebook page: www.facebook.com/ISCARS and Twitter: www.twitter.com/ISCARSLive.
ISCARS DASH Touring is sanctioned by the American Speed Association (ASA). To learn more about the Daytona Beach, Florida-based Racing Speed Associates or the American Speed Association® including the ASA Member Track program, call (386) 258-2221 or send an e-mail to info@asa-racing.com. For news and information from racetracks and regional tours involved in the American Speed Association®, visit www.asaracing.com.
Connect with The Crittenden Automotive Library