Former ISCARS Race Winner Caleb Roark in Daytona
Former ISCARS Race Winner Caleb Roark in Daytona
Bradley Carpenter
ISCARS
February 23, 2012

Roark Looks to Make NASCAR Truck Race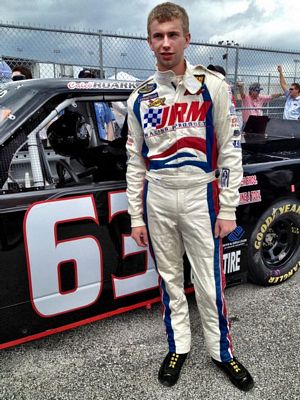 Caleb Roark gets ready to practice on Thursday (84EXPO Communications)
ISCARS PR- Bradley Carpenter
Updated: Thursday, February 23, 2012
Daytona Beach, FL -
Former ISCARS race winner, Caleb Roark, looks forward to today as he will attempt to make the field for the NASCAR season opening Truck series race. Roark won a race at Lonesome Pine Raceway, a race that ISCARS President/CEO remembers very well. "Caleb was a fierce competitor in ISCARS. He has continued to, push himself hard on and off the track. Caleb excelled in his studies and is also scratch golfer. He has done well throughout his initial efforts in the NCWTS, and ISCARS will certainly be pulling for him to achieve his first start at Daytona."
In the original press release (http://www.speedwaymedia.com/?p=21384) Caleb includes his time in ISCARS as a part of gaining experience. "Even though Roark hasn't even turned 20 yet, he has over 13 years experience on the track, having raced since about 6 years of age in various series, including Go Karts, Champ Karts, Pure4, Mod4, Limited Late Model, Late Model, ISCARS Dash Touring and NCWTS." (Roark had one win in his Rookie Season in ISCARS).
Caleb shared with us some of the experiences he is already getting this weekend including…
"This is the Mecca of Motorsports and I just feel honored to be here. I'm getting a lot of good advice from Carl Edwards and Jamie McMurray about how to handle the draft and just how to conduct yourself on this superspeedway. They both started their NASCAR careers with the Mittler Brothers team and they've worked their way to the top. That's what I hope to do.
My emotions keep going back and forth between being calm and being excited. It's the realization that I'm here at Daytona and that's what I've always dreamed about as a kid. I'm here and it's a really big reality check.
It's shown me how far we've come, not just myself, but our entire family. My Dad (Jeff Roark) raced here in ISCARS DASH (then known as the NASCAR Goody's Dash Series) in 1988 for his first Daytona start. Now, 24 years later, I'm hoping to make the field for my first Daytona race. I'm excited to have this opportunity and very thankful for the hard work that the entire Mittler Brothers team has put into this effort."
The entire ISCARS family wishes Caleb and his team good luck on making it into the field and then having a successful run for a good finish. Caleb is another reason why, WE ARE ISCARS.
For all of the most up to the date information on America's Premiere Stock Car Turner Series make sure to visit www.iscarsonline.com as well as the Official ISCARS Facebook page: www.facebook.com/ISCARS and Twitter: www.twitter.com/ISCARSLive.
ISCARS DASH Touring is sanctioned by the American Speed Association (ASA). To learn more about the Daytona Beach, Florida-based Racing Speed Associates or the American Speed Association® including the ASA Member Track program, call (386) 258-2221 or send an e-mail to info@asa-racing.com. For news and information from racetracks and regional tours involved in the American Speed Association®, visit www.asaracing.com.
Connect with The Crittenden Automotive Library