Mike Guerity: WIDE OPEN 24/7
Mike Guerity: WIDE OPEN 24/7
Bradley Carpenter
ISCARS
February 6, 2012

Microsoft Word Version


ISCARS Wide Open Driver of the Week Mike Guerity Right (Photo courtesy of Dale Roberts)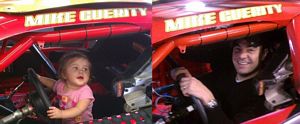 18 month old daughter Sophia in Guerity's ISCARS race car
ISCARS PR- Bradley Carpenter
Updated: Monday, February 06, 2012
Daytona Beach, FL -
You may know him as a racer in the International Sport Compact Auto Racing Series (ISCARS) but Mike Guerity, this week's WIDE OPEN driver, never takes a break away from the track. Guerity is a husband, father, businessman, and a friend to many in the racing community.
During the 2011 season Guerity ran a limited schedule with Robert Tighe Racing which fields two cars prepared with Honda fuel-injected engines. At the season opening round held at Ace Speedway in Altamahaw, NC, Mike Guerity ran in the top five all night long placing fourth in race one and two, in his AEM Performance Electronics Honda Accord.
Guerity is thrilled for the 2012 season to begin, saying that the "recession is done, let's go racing." Mike Guerity's plan for this year is to run the full schedule returning as a driver with team owner Robert Tighe. He is most looking forward to Newport Speedway, the site of the opening round in 2012, "I have heard that place is fast" Guerity added. Furthermore, Guerity is excited about the growth of ISCARS, seeing more cars and drivers entering the races.
When he is not racing in ISCARS, Guerity is still around the race track working in the industry he loves. Mike Guerity is a national television host for 3 Wide Life, a documentary studio that films racing related material. Furthermore, Guerity has done shows for 3 Wide Life that deal with USAC including covering the Chili Bowl which occurs in January.
Mike Guerity found the love of his life and wife now for three years at none other than a go-kart track in Ohio. Mike and Maria had met there and they had been in contact off and on until recently when they decided to get married. Their daughter Sophia is just 18 months old and is a bundle of joy and happiness for two deserving parents.
With the days knocking off till the season opening round at Newport Speedway, an ASA sanctioned track located on the Tennessee side of the Smokey Mountains, Mike Guerity is preparing for his biggest season in ISCARS. "We know if we can pick up about forty horsepower we will be good" Guerity said about the power coming out of his Honda Accord.
Make sure to visit Robert Tighe Racing online at http://roberttigheracing.com/.
For all of the most up to the date information on America's Premiere Stock Car Turner Series make sure to visit www.iscarsonline.com as well as the Official ISCARS Facebook page: www.facebook.com/ISCARS and Twitter: www.twitter.com/ISCARSLive.
ISCARS DASH Touring is sanctioned by the American Speed Association (ASA). To learn more about the Daytona Beach, Florida-based Racing Speed Associates or the American Speed Association® including the ASA Member Track program, call (386) 258-2221 or send an e-mail to info@asa-racing.com. For news and information from racetracks and regional tours involved in the American Speed Association®, visit www.asaracing.com.
Connect with The Crittenden Automotive Library