Dont Blame Us: Gas Prices Have Doubled on President Obamas Watch
Dont Blame Us: Gas Prices Have Doubled on President Obamas Watch
Congressman John Boehner
April 29, 2011


Gas prices have doubled now at more than $4 per gallon on President Obamas watch. In response, the White House has just one message: Dont blame us. As Reuters reported earlier this week, there is no silver bullet has become the White House go-to phrase for ignoring the American peoples call for meaningful solutions to combat rising gasoline prices. The American people want solutions, however, not excuses. As the following chart (courtesy of the House Natural Resources Committee) shows, gas prices have doubled since President Obama took office: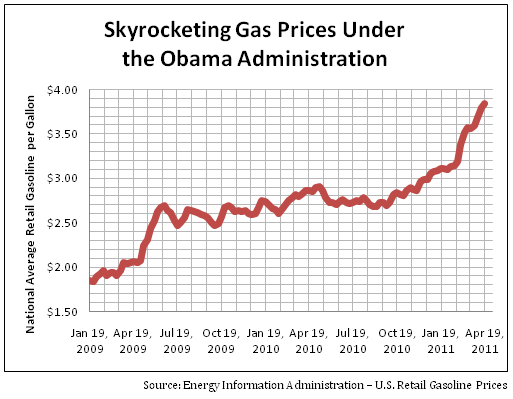 The Presidents anti-energy policies are not just driving up gas prices, they are costing American jobs and perpetuating our dependence on foreign oil. Heres a by-the-numbers look at how:
As Many as 12,000 Jobs Lost, More Than 36,000 Jobs at Risk. According to a study by Louisiana State University monetary economist Dr. Joseph Mason, the Obama Administrations de facto ban on American energy production could cost as many as 24,532 jobs in the Gulf Coast, and 36,137 jobs nationwide. By the administrations own admission, the first six months of the official moratorium alone resulted in as many as 12,000 jobs lost.
More Than a 200,000 Barrel Per Day Decrease In Gulf Coast Energy Production. According to the Energy Information Administrations (EIA) March 2011 Short-Term Energy Outlook, production from the Gulf of Mexico is expected to fall by 240,000 barrels per day in 2011 and by a further 200,000 barrels per day in 2012.
A 16 Percent Decrease in American Energy Production. American energy production is already 16 percent lower than what it was projected to be, and future projections show continued decreases in domestic production and more foreign imports.
27 Billion Barrels of Oil Under Lock & Key in Alaska. According to a recent Fox News report, the EPAs refusal to grant permits for energy production in Alaskas Outer Continental Shelf has eliminated access to an estimated 27 billion barrels of oil. With Alaskan oil production already decreasing by seven percent annually, continued delays could force the Trans Alaska Pipeline to shut down.
12 Rigs Gone from the Gulf. According to James W. Noe, Executive Director of the Shallow Water Energy Security Coalition, at least 12 offshore rigs have departed the Gulf of Mexico, resulting in a significant and precipitous reduction in domestic employment and energy development.
More Than 40 American Energy Production Projects Stalled. As the House Natural Resource Committee notes, 10 months after the Obama Administrations official moratorium on American Energy ended, over 40 projects remain stalled and people are left without work.
As yesterdays anemic GDP growth demonstrates, the Obama Administrations job-destroying, anti-energy policies are already adding to the economic burden weighing on American families and small businesses. Next week, the new House majority will move forward on American Energy Initiative legislation that will boost American energy production to help lower prices and create jobs. As Congressman Boehner noted in a statement yesterday, If the White House and Democrats are serious about lowering gas prices, they will work with us to pass this legislation and respond to the American people, who are demanding action to increase American energy.
Connect with The Crittenden Automotive Library