Now at $100: Rising Oil Prices Fuel Skyrocketing Gas Costs, Economic Uncertainty
Now at $100: Rising Oil Prices Fuel Skyrocketing Gas Costs, Economic Uncertainty
Congressman John Boehner
February 24, 2011


Today were getting our first look at whats to come this summer after the Obama Administrations two-year drive to block new American energy production and impose a job-crushing national energy tax: AP reports that the price of oil has passed $100 per barrel for the first time since October 2008. And as the cost of oil rises, so too do prices at the gas pump for American families and small businesses.
ABC News says [w]eekly retail gasoline prices skyrocketed to $3.19 a gallon USA Today says thats the highest average February price since the government started keeping track in 1990. These high prices are making it harder for Americans just to get to school or work or to find a job and creating more economic uncertainty.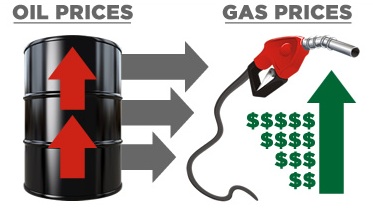 In recent years rather than unlock Americas vast energy resources to help lower costs and create a better environment for job growth President Obama and the Democrats who run Washington have:
Blocked and stopped new American energy production that would create new jobs. The House Natural Resources Committee says the Administrations latest job-destroying ban on offshore energy exploration will cost 75,000 jobs and more than 900,000 barrels of oil a day. According to the Heritage Foundation, if the United States managed to increase its domestic oil production by 1 million barrels a day, it would create an additional 128,000 jobs and generate $7.7 billion in economic activity.
Worked relentlessly to impose a great big job-crushing national energy tax. The House Energy & Commerce Committee warned of the threat of Environmental Protection Agency bureaucrats imposing an energy tax through a series of regulations. And Kim Strassel with the Wall Street Journal explained that the president's plan for forcing utilities to switch to costly renewables is cap and trade by another name and will lead to dramatically higher energy prices.
Wasted billions of green stimulus dollars that have failed to create American jobs. For example, an investigative report by American University found that nearly $2 billion stimulus dollars were allotted to wind turbine projects that created jobs overseas. And according to the Daily Caller, a green jobs company touted by President Obama and VP Biden that received a $535 million loan guarantee from the stimulus is actually laying off workers.
Energy & Commerce Chairman Fred Upton (R-MI) and Rep. Ed Whitfield (R-KY) have already introduced legislation to stop the EPA from imposing a backdoor national energy tax, as outlined in the Pledge to America. The new House majority is also committed to an all-of-the-above energy strategy that increases American-made energy production, provides for more clean renewable and alternative fuels, and increases conservation.
Connect with The Crittenden Automotive Library