Tail Lights: Isn't the Internet Wonderful?
Opinions expressed by Bill Crittenden are not official policies or positions of The Crittenden Automotive Library. You can read more about the Library's goals, mission, policies, and operations on the About Us page.
Tail Lights
Automotive History from a Different Perspective
Volume 8, Issue 1: Isn't the Internet Wonderful?
Bill Crittenden
1 April 2020
Go to Tail Lights index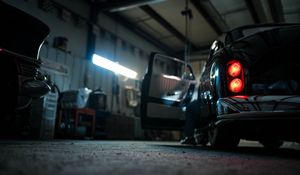 Classic car in a garage in Kansas. Photo by Logan Meis.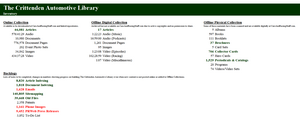 Check out our current Online Collection & backlog stats!
Despite all of the shutdowns and shelter-in-place orders, the world can still communicate. Some of us are still working, great people risking their lives just to keep us healthy & fed while some of us are trying to hide the Marvel logos on our pajamas from our colleagues in Zoom calls.
We all seem to have a little more time on our hands without movie theaters, bars, and sports. Even though I'm a part of the Work From Home category, I've still been able to reclaim two hours of each day in not having to commute. Guess what I've been doing with the time?
It's been 19 months since I've put in the time to write one of these, called "
Starting Over
." That one was about finding safe haven after having gone through a number of life's trials and tribulations, and after relaxing a little it was time to go through the site and tie up all the loose ends I created trying to find something that would shore up struggling finances after the recession and family medical problems. Since then I haven't written, instead focusing on new content, better indexing, and fixing previous errors.
So, 19 months later it must be done, right? Heck, no! Trying to go through 2 years of backlogged indexing, 10+ years of unfinished projects, plus trying to keep up with the daily deluge of new data & information available is almost impossible for one person to do. Progress has been made, though.
Except for today, when I couldn't get on the internet after work. Comcast's little April Fool's joke, perhaps? Verizon has kept me connected to the world, though, and I couldn't imagine going through this pandemic sheltering or even figuring out a way to share The Crittenden Automotive Library with the world if it weren't for the internet.
Not to get too off topic, but I'm really encouraged and uncharacteristically optimistic lately. Somewhere along the way in between writing in 2018 and 2020 I've decided that although we're keeping our focus on the same topics as we always have and staying non-partisan, every company has a side issue or two that they advocate for. My favorite example is Wendy's work promoting adoption because Dave Thomas was adopted.
The shortest summary I can come up with of the past experiences that apply here is that I grew up surrounded by books and hanging out at libraries, so I believe down to my core that while raw information can't solve every problem no problem is ever going to be solved by having less information. I have OCD and anxiety so mental health has long been an issue for me. So beyond just collecting car ads & taking pictures at cruise nights there might be a few supportive messages for mental health awareness, pro-library posts, and inspirational quotes on knowledge & education.
Basically, I'd like to set a positive example about the power of sharing information while posting pictures of badass Camaros.
So today's message is one of thanks to the people who invented, developed, and maintain the internet so that we can have Twitter, Facebook, Wikipedia, the work from home connection that keeps me employed through this crisis, as well as the web hosting that allows me to share my collection of automobile information with the world.
Yeah, I know Twitter & Facebook can be a bit of a shitshow at times. But like any tool, its positive or negative value depends upon the person using it. If you ignore the negativity as much as possible and consider the capabilities of social networking in the hands of good people, these really are awesome tools.
I've never been thankful to see a Comcast van before, but given the current circumstances they were a welcome sight in the neighborhood this past week. Thankfully internet repair technicians are considered essential workers and through their hard work we can all get through this crisis together (in spirit).
Financial
As of last writing I had $11 in a free-trading brokerage account for fun and had added a few stocks to my random collection of automobilia. Now it's grown to a serious investment account with high-dividend ETFs.
The long-term goal is to see if I can collect enough ad revenue & tip contributions to make enough on dividends & interest to retire from the "day job" and build The Crittenden Automotive Library full time. If you'd like to contribute, check out the links below!
Put a little money in the "Tip Jar" via PayPal
Get a Robinhood account
, we both get a free stock!
We're not a 501 charitable organization, so contributions are not tax deductible, and that's why we're calling them "tips," like you'd leave at a restaurant for good service.
History Beyond the Bumpers
The Crittenden Automotive Library includes information from all aspects of automotive transportation and competition. This section highlights some new material added to the Library about a topic other than vehicles themselves.
We haven't created a Special Collection page yet, but we're living in an interesting time in automotive history. Just about every kind of in-person automotive event has been canceled, automakers are shutting down assembly lines & gearing up to produce medical equipment, dealerships & repair shops are trying to figure out what's considered "essential" business, mostly empty roads in major cities while "nonessential" employees work from home, racetracks are silent while big name drivers compete in iRacing events broadcast on major network television, and delivery drivers are a lifeline keeping restaurants in business.
I've already noticed a few "COVID-19 Protocols" sections in press releases going in the Library, most of which show dealerships going to an appointment-only sales model to minimize the number of people in the dealerships at any given time.
In the middle of all of that, the Trump Administration announced a dramatic rollback of environmental regulations on cars. While automakers and dealerships are poised for possibly the worst sales year in modern history, shoppers are eventually going to return to the market to the news that next year's models may be both cheaper & more powerful thanks to the rollback. That's going to result in a lot of them putting off their purchases, further tanking the sales numbers.
When it's all said and done, this may be more economically trying than the 2008-2009 recession to automotive businesses. Proof that people can work productively away from the office and infrastructure purchased to get through the crisis may have long term effects on rush hour traffic, vehicle miles traveled, and car sales.
As we don't have the resources of a 24 hour newsroom there's a delay in getting information into the Library's online collections, but a COVID-19 Special Collection is definitely on the way. We also don't have the ability to publish everything we come across due to copyright, so in addition to the regular list of articles & media we'll compile a timeline of events including major cancellations and annoucements.
629.2
The Dewey Decimal System's designation for automobiles, trucks, motorcycles, and driving fall within the 629.2 range. This section is about Library Owner Bill Crittenden's personal collection of books, magazines, and miscellaneous papers, much of which is available for reference if it's not directly available on CarsAndRacingStuff.com.
As before, the focus has remained taking better care of the collection I already have. An inventory has been started, and not just online. Just about everyone has a large folder of random stuff on their computer, sort of a digital "junk drawer." I have a few, and recently I've started organizing the automotive-related files that I can't put onto CarsAndRacingStuff.com because of copyright. I've been calling this the Offline Digital Collection, and it's sort of a computer file version of the physical books I've collected and added to the Reference Desk.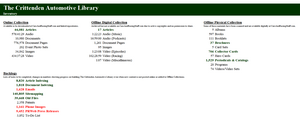 Check out our current Offline Collection stats!
---
Site Visitor & Social Media Reach Statistics
If you'd like to advertise with The Crittenden Automotive Library and reach some of our visitors or social media followers, email
admin@CarsAndRacingStuff.com
.
| Month | Total Page Views | Page Views/Day Average | Total Users | Users/Day Average |
| --- | --- | --- | --- | --- |
| March 2020 | 9,226 | 297.6 | 5,179 | 167.0 |
| February 2020 | 11,039 | 380.6 | 7,603 | 262.1 |
| January 2020 | 8,877 | 286.3 | 4,469 | 144.1 |
| December 2019 | 11,032 | 355.8 | 7,556 | 243.7 |
| November 2019 | 6,888 | 229.6 | 4,045 | 134.8 |
| October 2019 | 7,636 | 246.3 | 4,054 | 130.7 |
Page views and user information provided by Google Analytics.
Alexa Traffic Ranks
855,702 worldwide
136,136 in the United States
Current Social Media Statistics
Facebook
: 548 Likes
Instagram
: 611 Followers
Pinterest
: 312 Followers
Tumblr
: 692 Followers
Twitter
: 1,969 Followers
YouTube
: 1.14K Subscribers
About The Crittenden Automotive Library
The Crittenden Automotive Library @ CarsAndRacingStuff.com, based in Woodstock, Illinois, is an online collection of information relating to not only cars, trucks, and motorcycles, but also the roads they drive on, the races they compete in, cultural works based on them, government regulation of them, and the people who design, build, and drive them. We are dedicated to the preservation and free distribution of information relating to all types of cars and road-going vehicles for those seeking the greater understanding of these very important elements of modern society, how automobiles have affected how people live around the world, or for the general study of automotive history and anthropology. In addition to the historical knowledge, we preserve current events for future generations.
The Library currently consists of over 776,000 pages of books, periodicals, and documents, over 44,000 individual articles, more than 18 days of video & 24 days of audio, more than 34,800 photographs & other images, and offline reference materials including 597 book volumes, over 1,500 magazines & catalogs, and thousands of advertising brochures & documents.
Connect with The Crittenden Automotive Library